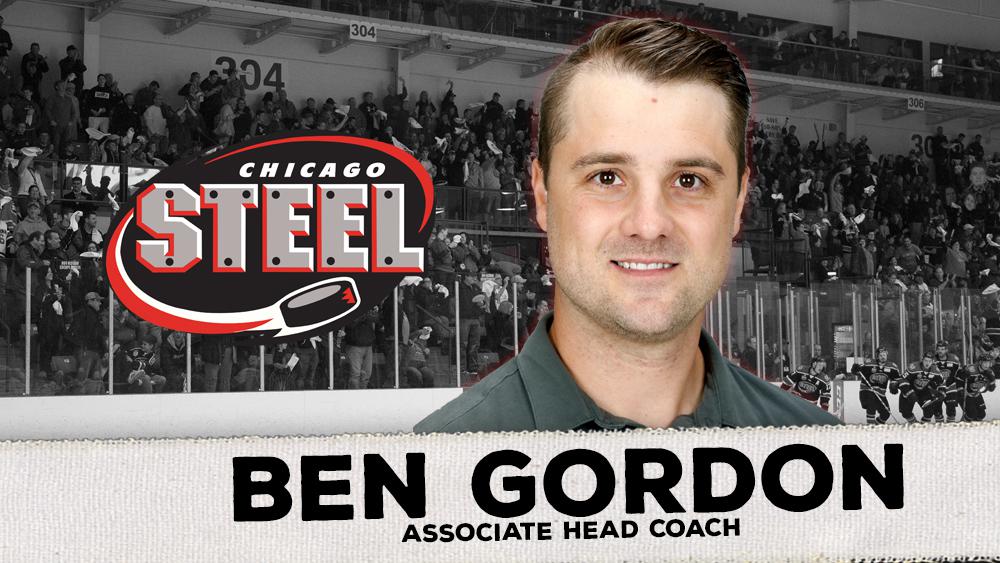 GENEVA, ILLINOIS — The Chicago Steel announced Friday the hiring of Ben Gordon as Associate Head Coach, joining Head Coach Mark Abalan and Assistant Coach Mike Garman behind the bench for the 2017-2018 season. Gordon joins the Steel from the University of Minnesota (Big Ten), where he served as Director of Operations for the men's hockey team.
"I'm really excited to have Ben join our staff," said Abalan. "He brings a wealth of knowledge from his many successful years as a player in both college and pro hockey. During his time as a coach he has done an excellent job of developing players in Tri-City and at the University of Minnesota. Ben will bring great energy to our team through his passion for the game and tremendous work ethic."
Gordon, 32, returns to the USHL where he was an assistant coach in 2015-2016 for Tri-City, helping the Storm win the 2016 Clark Cup Championship, and played in the league from 2002-2004 with the Lincoln Stars, winning the Clark Cup as a player in 2003. Gordon went on to play four years of Division I hockey at Minnesota, where he registered 98 points, including a team-leading 15 goals during his senior season.
"I am extremely humbled and excited for the opportunity (Steel owner) Larry Robbins and the Steel organization have given me," said Gordon. "I cannot wait to start working hard to help build upon their winning culture.
"I am grateful and eager for the chance to work with Mark," continued Gordon. "He is a passionate coach who is highly motivated to develop players, which are qualities we share."
Following a six-year professional playing career in the American Hockey League, ECHL, DEL (Germany), and the former Central Hockey League, Gordon began his coaching career in 2014-2015 as an assistant coach and interim head coach with St. Scholastica (NCAA Div. III) in Duluth, Minn. The native of International Falls, Minn., is in the process of relocating to the Fox Valley with his wife, Maile, and their children, Mack and Rory.
Gordon completes a series of new hires for the Steel, who won the 2017 Clark Cup Championship, and saw all three coaches advance to new jobs, including Head Coach Dan Muse becoming an assistant coach with the NHL's Nashville Predators.
For more information, call 855-51-STEEL, stop by the Steel Box Office at Fox Valley Ice Arena or visit ChicagoSteelHockeyTeam.com.